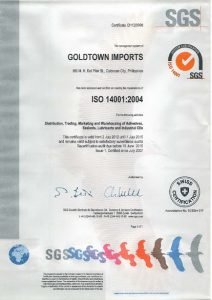 About Goldtown
G
oldtown Import (Phils.) is a family run business specialized in the distribution & sales of high quality industrial chemical products for industrial applications, manufacturing sector, household institution chemicals, constructions sealant and consumer preventive maintenance applications. Since its establishment in 1986, the company has always focused on delivering quality products & services in combination with technical expertise, personal service & flexibility to its customers. The company also obtained an ISO 14001:2004 certified for an environmental management standard.
We are exclusive distributor for many high-quality brands in the Philippines. We offer products for various manufacturers that focus on Adhesive, Sealants, Preventive Maintenance, Car Care products, industrial lubricants, Cleaners & Degreasers, Lubricating Grease, Motor oil, metalworking fluids and technical aerosol.
Our 30 years of business experience has taught us the importance of customers' satisfaction. Achieved through distinguishing ourselves from traditional suppliers by providing customer solutions tailored to their requirements and the ability to respond rapidly to changes in our customer's business needs.
For all your inquiries, please do not hesitate to contact us, we glad to serve you.
We are aiming to be recognized as the pioneering distributor of the most reliable and high-quality supplier of Adhesive, Sealants, Lubricants & Maintenance Chemical products.
OUR MISSION
To be the industry leading supplier of adhesive, sealants, lubricants, maintenance chemical and technical aerosol products that will always put forward the customer satisfaction, service quality, and innovation.

AMERICAN GREASE brands recognize for its high quality lubricating grease.
AMERICAN GREASE offer wide range of lubricating grease includes multi-purpose grease , high temperature grease, water resistant grease, long life, non-soap, soap based grease and etc.
GOJO manufactures and markets skin health and hygiene solutions for away-from-home settings. Its products include hand soaps and sanitizers, moisturizers, shower washes, shampoos, foam hand washes, surgical scrubs, skin conditioners, chemical removing hand cleaners, hand protection products, and dispensers.GOJO famous products is GOJO NATURAL ORANGE Hand Cleaner, a quick-acting lotion formula with pumice scrubbing particles for cleaning a broad range of industrial soils, medium dirt's and grease.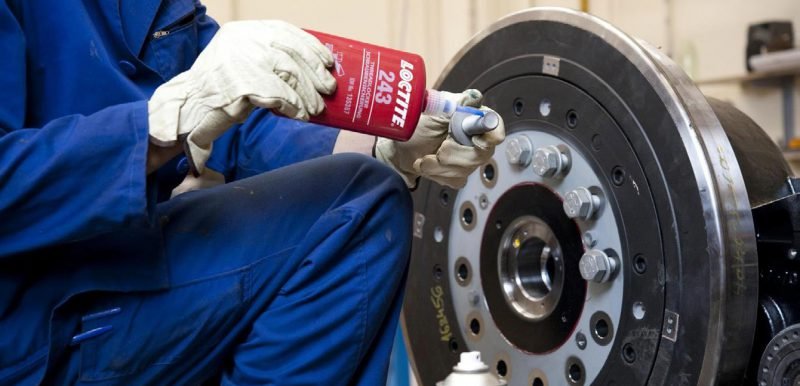 Loctite is a German-owned American brand of adhesives, sealants and surface treatments that include acrylic, anaerobic, cyanoacrylate, epoxy, hot melt, silicone, urethane and UV/light curing technologies. Loctite products are sold globally and are used in a variety of industrial and hobbyist applications.
Loctite makes and markets a variety of engineering adhesives, sealants, coatings, specialized chemicals, automotive body repair materials, home care products and lighting systems. Loctite distributes in both domestic and international industrial, medical, professional automotive and home and car do- it-yourself repair markets.
Palace Chemcial is a manufacturer from Japan of metal working oil, metal processing oil, special lubricants, special grease , chemical and petro-chemical related products.
Established in 1928, Rock Oil is a family owned and run British manufacturer of high quality lubricants and fuel oils. Rock's major activities are in the agricultural, automotive, commercial, industrial, marine, motorcycle and leisure markets. World Championship winning performances in motor sport have led to blending and manufacturing lubricants for some of the world's top motorcycle, car and engine manufacturers.
Rock Oil's dedication to quality and improvement resulted in accreditation to BS EN ISO 9001:2015 and recommendations by many leading manufacturers such as BMW, Mercedes, Porsche, Volvo, Iveco, Triumph, Kawasaki and Suzuki plus JASO, API, ACEA, CIK and NMMA accreditation.
Rock Oil also offer the following additives, services and clothing items. Click the below each section for further details.
Super Lube is a brand manufactured by Synco Chemical Corporation is a privately held manufacturing company founded in 1980 in Bohemia, New York.
Synco developed Super Lube®, a line of premium synthetic lubricants. Designed for an endless array of applications, Super Lube® synthetic Greases and Oils are clean, food grade lubricants marketed to consumer and industrial customers in over 45 countries around the world.
Established in 1960, a leading manufacturer of special lubricants and allied chemical products. Spanjaard products are synonymous with quality. This is supported by our ISO 9001 Quality Management certification, our Food Safety Assessment (FSA) certification, as well as our registration, evaluation and restriction of chemicals (REACH) compliance.
Spanjaard Limited manufactures and distributes specialized lubricants and allied chemical products for industrial and consumer applications.
Den Braven has specialised in the production of high quality ISO certified sealants, adhesives, foams and technical aerosols for use in the construction industry as well as for a variety of industrial applications. Having experienced strong growth, the company has established itself as market leader in numerous countries.
The combination of our world-class manufacturing, Research and Development facilities, our customer focused mind-set and flexible capabilities, and our broad product and services portfolio, has led to the success of the company and its customers for nearly 40 years. In addition, our decentralized organisation benefits our customers from a global perspective whilst being able to tailor to their local needs.